2021 – 2022 Education Leaders WNC WE LEAD
February 9 @ 9:00 am

-

3:00 pm

|

Recurring Event

(See all)

One event on February 9, 2022 at 9:00 am

One event on February 10, 2022 at 9:00 am

One event on February 22, 2022 at 9:00 am

One event on March 9, 2022 at 9:00 am

$75.00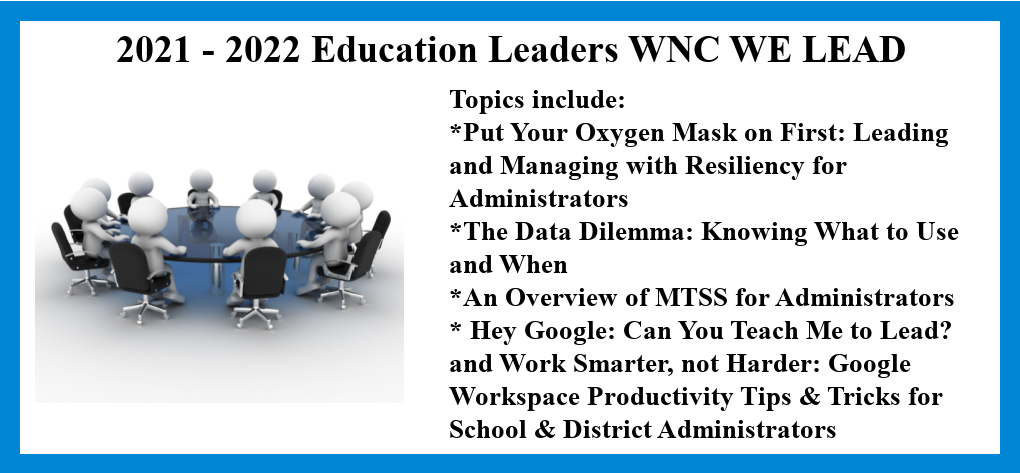 All Sessions:
Times: 9:00 – 3:00
Location: WCU at Biltmore Park
Cost: Individual Session $75  
Full Package $250  (includes all sessions) Schools may send one representative per session
Please contact Candie Sellers at csellers@wresa.org or call 828-774-5681 ext 104 if you have any questions.
January 6th, 2022      The Data Dilemma: Knowing What to Use and When
With Dr. John Bryant and Mr. Scott Rhodes
With so much data available to schools and school leaders, it is often difficult to decide what data are most beneficial to consider at any given time. This session will offer strategies and solutions for identifying, targeting, and analyzing data across situations and strategic objectives. Focus will be given to increasing student achievement, enhancing professional growth, and improving school culture.
February 9th and 10th,  (2 days)
Put Your Oxygen Mask on First: Leading and Managing with Resiliency for Administrators 2 days     
With Casta Childress with the Hunt Institute
There is a reason that the safety instructions when flying on a plane always indicate that you need to put your oxygen mask on first, before helping others… Learn the science behind Resiliency and why the success of your school starts with you building it as a leader. This two day workshop is targeted towards administrators and district leaders. During this time the participants will complete a resiliency self-assessment, develop a personal plan for resilience learn strategies for building resilience, and develop an action plan to promote resilience in their work setting. Come prepared to develop a toolbox on building and sustaining "Leadership Resiliency", while still modeling servant leadership. Seating is limited so sign up soon!
February 22nd, 2022 An Overview of MTSS for Administrators
With Tamara Houchard
In this session, participants will look at the various components that comprise the Multi-Tiered System of Supports framework; the measures of success; approaches that maximize efforts; and problems of practice that apply to various grade spans. Time will be allotted to collaborate with other administrators.  Please bring a fully charged laptop to the session.
March 9th, 2022
Part 1 Morning: Hey Google: Can You Teach Me to Lead?
With Stacy Lovdahl and Mollee Branden NCDPI
Algorithms & AI will never replace the personal touch of leadership & coaching. In this session we'll engage with coaching & leadership strategies inspired by Dare to Lead (Brené Brown), The Infinite Game (Simon Sinek), & Think Again (Adam Grant). Participants will practice three different leadership strategies, facilitate simulated coaching experiences, and transform educator-leader support systems.
DLC Alignment:   Human Capacity and Culture:  Administrators will leverage digital tools and resources to further develop a positive culture of learning that seeks continuous improvement among staff and students., Community:  Administrators will engage all stakeholders in the purpose and function of the school, leveraging multiple types and points of connection and communication to ensure the constant, effective flow of information and input.
Part 2 Afternoon: Work Smarter, not Harder: Google Workspace Productivity Tips & Tricks for School & District Administrators
With Presenters -Stacey Lovdahl, Innovative Catalyst/Educator on Loan/DPI
Vera Cubero, DLT Consultant Western Region/DPI
 Learn how to use all the Google Workspace tools together to better manage your time and increase your productivity.
This is a hands-on, deep dive session that will provide participants with tips and tricks for G Mail, Calendar, Tasks, Chat, Docs, Keep, Drive, & Classroom and how to utilize time saving features of each as well as how each app works together to help you work smarter, not harder!
$75 per session   5 hours per session            9:00 am – 3:00 pm
$250 per school (Administrators can rotate who attends the 5 sessions) 
If an administrator attends all 4 sessions, a certificate of completion for 25 hours will be awarded upon completion of the March session.
Related Events