Debbie Silver – Teaching Kids to Thrive and be Responsible, Self-Motivated Learners
March 15 @ 9:00 am

-

3:00 pm

Free – $45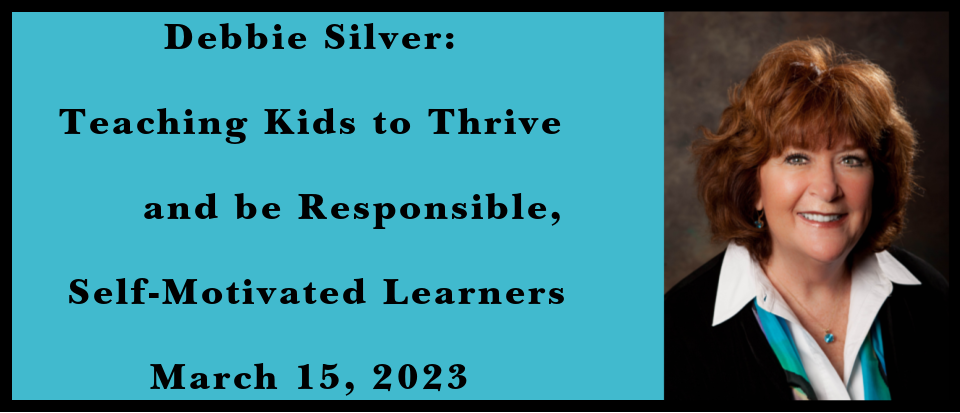 Date:      March 15, 2023
Time:      9:00am - 3:00pm

Location:  WCU at Biltmore Park - Room #346
           28 Schenck Parkway
           Asheville, NC 28803 

Cost:      FREE to WRESA Members & Burke County thanks to the Dogwood Health Trust Grant
      

     

$45 Non-members

CEUs:      5 Contact hours
Audience:  K-12 Educators
What to Bring: Charged device
This fun and engaging session will focus on how teachers create and maintain a positive learning environment through "thrive strategies."  Debbie will be working from two books, "Teaching Kids to Thrive" and "Fall Down Seven Times Get Up 8″.  
Teaching Kids to Thrive presents strategies, activities, and stories in an approachable way to develop responsible, self-motivated learners. Uniting social, academic, and self-skills this instrumental resource offers benefits to students such as:
Using mindfulness strategies to help students tap their inner strengths

Learning to self-regulate and control other executive brain functions

Developing growth mindsets along with perseverance and resilience

Cultivating a sense of responsibility, honesty, and integrity

Encouraging a capacity for empathy and gratitude
Fall Down Seven Times Get Up 8 teaches that failure is not only a possibility for learners during these challenging times, but a productive, concrete way of gaining ground. How can parents and educators teach kids to turn failure into progress toward success?  
This text has sensible answers, including both what to say and what not to say to truly help kids self-motivate and become independent, lifelong learners. Debbie offers a deeper understanding of how motivation works along with new, practical, research-driven strategies for spurring learners to thrive. 
Educators will be thrilled that the strategies presented can be immediately applied upon return to school.  
For additional information, contact April Spencer at aspencer@wresa.org 
Presenter:  Debbie Silver
Dr. Debbie Silver is a humorist, consultant, and a retired educator with over 30 years of experience as a teacher, staff development facilitator, and university professor.  As a classroom teacher Debbie won numerous awards including the 1990 Louisiana Teacher of the Year. She speaks worldwide on issues involving education and is a passionate advocate for students and teachers. 
Debbie wrote the bestselling books, Drumming to the Beat of Different Marchers: Finding the Rhythm for Differentiated Instruction and Fall Down 7 Times, Get Up 8: Teaching Kids to Succeed and co-wrote Deliberate Optimism: Reclaiming the Joy in Education. Debbie is married to Dr. Lawrence Silver and together they have five sons in five different states.  They currently reside in Melissa, Texas with their dog, 2 cats, and 2 aquatic frogs.