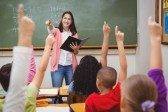 On any given day approximately 274,000 substitute teachers serve in this country's classrooms. By the time a student graduates from high school, that person will have spent the equivalent of a full year being taught by a substitute. As a result, quality preparation of substitute teachers is critical for student learning.
WRESA would like to thank Henderson, Jackson and Macon Counties; Jan King, Director of School Learning and Leadership Development for Henderson County Schools; and Monica Shepherd, Northwest Regional Educational Facilitator, for sharing their time and resources with us.
The following forms below need to be printed, completed, and included with your certificate  for this course when you apply to be a substitute with a school district. You will take the Blood Borne Pathogen Quiz and the Diabetes Quiz as part of your substitute training and these will be noted on your certificate.