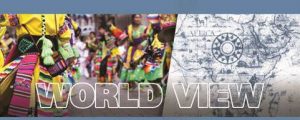 Register now for World View spring seminars on Latin America and Africa
March 28-29 and March 29-30, Chapel Hill, N.C.
Immerse yourself in the dynamic forces shaping and connecting Latin America, Africa, North Carolina and the United States during two spring seminars designed specifically for K-12 and community educators. Renowned UNC and country experts, thought leaders and student panels will broaden your knowledge of Latin America and Africa and offer strategies you can apply right away in your classroom.
Latin America and North Carolina,

March 28-29, 2017


North Carolina's Latinx population has grown 136% since 2000, according to the most recent Pew Research Center survey. World View'sLatin America and North Carolina seminar will help educators address the unique opportunities this brings to N.C. classrooms. Delve into the history, politics, arts and culture of Latin America and learn about model programs for understanding and supporting Latinx students and families.
Stories of Africa: Connected Over Time and Over the Globe,

March 29-30,2017


Heeding novelistChimamanda Adichie's warning about the dangers of hearing only a single story about a person or country, World View's 2017 Africa seminar will highlight the diversity of lived experiences within the continent of Africa and the interconnectedness of Africa with other nations, including the United States, and North Carolina. Our goal is that K-12 and community educators will be able to:
–  Learn something new about the continent of Africa or challenge an existing belief.
–  Articulate at least one example of how Africa is connected over time or across the globe.
–  Identify a global issue that impacts Africa and is relevant to your educational community.
REGISTER at worldview.unc.edu
Attend just one seminar or attend both!  Teams of four and those who attend both seminars get a discount!
SOCIAL MEDIA POSTS
Facebook
K-12 and community college educators: Broaden your knowledge of Latin American and Africa and gain classroom strategies you can apply right away at World View spring seminars March 28-30.  http://worldview.unc.edu/our-programs/seminars/
Twitter
K-12, community college educators: Expand your knowledge of Latin America and Africa at World View spring seminars.  http://worldview.unc.edu/our-programs/seminars/